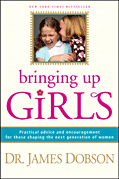 List Price: $25.99
ISBN: 978-1-4143-0127-3
From the Publisher:
Bringing Up Boys by parenting expert and best-selling author Dr. James Dobson was, and continues to be, a runaway hit, selling more than 2 million copies to date. Now, Dr. Dobson presents his highly anticipated companion book: Bringing Up Girls. Based on extensive research, and handled with Dr. Dobson's trademark down-to-earth approach, Bringing Up Girls will equip parents like you to face the challenges of raising your daughters to become healthy, happy, and successful women who overcome challenges specific to girls and women today and who ultimately excel in life.
My Review:
I was quite surprised at this book. Honestly, I thought when first looking at it…boring – BUT – it simply was very liberating for me, being a Mom of two very different girls.
Let me just say – this is not a book that should be left to be read by the children. It deals with some very hard issues and very "grown-up" issues.
I appreciated the wisdom that Dr. Dobson has put into this book and even though I don't always agree with everything he says – it was very informative.
Let's me just say, raising children is not an easy task and I need Godly counsel, this book is a very helpful tool.
Blessings to you! You are loved!
Note: I was sent complimentary copy for review purposes only. This review has not been monetarily compensated. The review was my honest opinion and views and not influenced by the sponsor in any way.