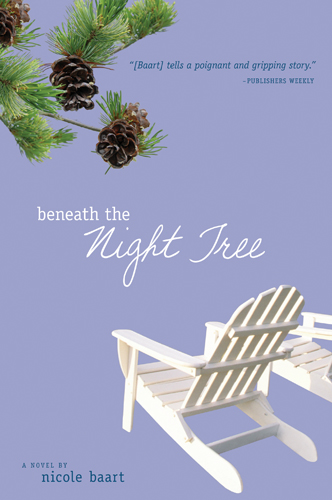 Beneath the Night Tree
List Price: $12.99
ISBN:
978-1-4143-2323-7
From the Publisher:
Do I have a child? Julia DeSmit knew she would face the question eventually, but she didn't expect it now. At twenty-four, she is finally content with the way her life has unfolded. A single mother to her son and young brother, she works at the local grocery store while chipping away at a two-year degree. All her free time is spent with her unorthodox family—her boys, her grandmother, and her boyfriend of five years. It's not perfect, but Julia is happier than ever.
So when she receives the cryptic e-mail from her son's father, Julia's world is turned upside down. She hasn't heard from Parker since he left her in a college parking lot nearly six years ago. But one look at her son—the spitting image of his father—is enough to convince her that, for better or worse, Parker is a part of their story. Faced with this new reality and an unexpected tragedy, Julia begins a tightrope walk between what was and what is, what she hopes for and what will be.
My Review:
I love when a book doesn't have a lot of fluff but has a serious side that makes you really ponder about the Lord and what He is doing in other people's lives. This is one of those books.
The characters may have been fictitious but the story could be real to so many people. I love the the untold theme in this book - why settle for good when you could have God's Best! I love that Julia, the main character, is so upfront and yet bears so much responsibility, that is handled with grace.
I couldn't put this book down...it was truly that good! I didn't even realize it was a part of the series until I read the last page...apparently, the first book is really not needed to get the story.
As far as family friendly, it did have some "adult" issues but they were written in a very tasteful way.
I wouldn't mind reading more from this author! She made me smile and I will be keeping this book in my permanent library.
Blessings to you! You are loved!
Note: I was sent complimentary copy for review purposes only. This review has not been monetarily compensated. The review was my honest opinion and views and not influenced by the sponsor in any way.