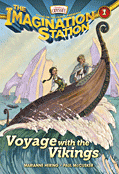 Voyage with the Vikings (AIO Imagination Station Books)
by Paul McCusker and Marianne Hering
List Price: 4.99
ISBN: 978-1-58997-627-6
When I got this book in the mail - I knew my kids were going to love it!
So, I'm letting my daughter tell us about this book in a short interview. For privacy reasons, we call her her Princess.
Me
: Hi Princess!
Princess:
Hi Mom!
Me:
Did you read the whole book and like it?
Princess:
Yes...I liked the characters, mostly Patrick.
Me:
Who's Patrick?
Princess: Patrick is a boy in the story who is nice to the Viking.
Me:
There were Vikings?
Princess: Mom, that is the name of the book!
Me:
Oh, yeah. What else did you like?
Princess:
I like that a little girl played chess...(
edited to not reveal the story.
)
Me
: Did you learn a life lesson? What was it?
Princess:
That we should be nice to our enemies.
Me:
Do you think your friends would like to read this book?
Princess:
Yes, I think they would love it.
Me:
Is this a book you would read again?
Princess:
Yes, ma'am.
Me:
Anything else you want to tell us?
Princess:
There is a code at the end of the book and if you get it right - you win a surprise!
Well, thank you Princess for sharing your thoughts! Now go do your Math work!
From the publisher:
While visiting Mr. Whittaker at Whit's Soda Shoppe, Beth and Patrick find a mysterious letter in the Imagination Station requesting a Viking sunstone. The letter is old and says that someone named Albert will be imprisoned if the sunstone isn't found. Mr. Whittaker sends cousins Patrick and Beth to Greenland circa 1000. On their quest for the sunstone, the cousins meet Vikings Erik the Red and Leif Eriksson--and find the sunstone as they join Leif on his first voyage to North America. But the adventure is just beginning, for when they return to Mr. Whittaker's workshop with the sunstone, there is another note waiting for them, requesting a silver goblet.
Blessings to you! You are loved!
Note: I was sent complimentary copy for review purposes only. This review has not been monetarily compensated. The review was my honest opinion and views and not influenced by the sponsor in any way.